April 2018
| Mon | Tue | Wed | Thu | Fri | Sat | Sun |
| --- | --- | --- | --- | --- | --- | --- |
| | | | | | | 1 |
| 2 | 3 | 4 | 5 | 6 | 7 | 8 |
| 9 | 10 | 11 | 12 | 13 | 14 | 15 |
| 16 | 17 | 18 | 19 | 20 | 21 | 22 |
| 23 | 24 | 25 | 26 | 27 | 28 | 29 |
| 30 | | | | | | |
Calendar
Long maintenance
Thu Nov 19, 2015 9:23 pm by Luna Starsplitter
Hey everyone we have had a long period where we were unable to get ahold of anyone or do much. I hope everyone is willing to come back and join in!
Comments: 0
Working on Site
Mon Feb 09, 2015 6:46 pm by Shijumaru Tsukikirameki
Alright guys gonna clean up the site since we got everything back online and working. Sorry for the wait as always but you know how my work hours are. Anyways hope your all doing well and hope to see you soon.

Regards,
Tsuki
Comments: 4
Who is online?
In total there are
3
users online :: 0 Registered, 0 Hidden and 3 Guests
None
Most users ever online was
70
on Fri Nov 07, 2014 2:29 am
Hiya everyone!

This is your friendly shop keeper here to give you some info on the market in the rp of The Eternal Song! As you can see I will be putting up the items for sale and such, but before that lets get down to the brass tax here and fill ya in on some news. This as it says is thae market were you can buy, sell or trade items from player characters. So that means the npc stores will be within the rp and ran by either Luna, myself, or another member so keep a look out for all that. SO! Lets get started on the market rules!

Firstly and foremost have fun! Next is, when selling an item or items of any sorts you may set the price. Oh yeah also when selling stuff you can get an npc to do it for you of coarse it will cost you but you can customize it to your will, you can pick the race and design it. No you cant choose a class because it only remains either at the market or at your house. Houses will be explained in a different section of the rp. You may have an unlimited number of Items at a time, when selling items the gold will be transferred from the buyer to the seller by the admins so if it isnt there right away that is why but admins will be watching for an item to sell so they can transferr the gold. When trading an item in the market you simply give the item to the person you are trading with and visa versa. You can trade in the market and in the game. Or just give an item in the game. When buying you will receive your item right away but your gold will be transferred to the seller.

Also besides your npc you may also buy and build a shop as well as a stall. You may sell what ever you want be it items you make or find. Also, you can make your shops a specific type of shop too. For example you may have a blacksmith or a restaurant, etc, but that requires the merchant job. With out it you may not have a shop or stall, but you can still sell your items through your npc. Shops and stall can be put in any city or town of your choice. So they can be in the game and not the market.

Lastly, they're are thieves in this game so be warned. YOU CAN GET STOLEN FROM. So make sure you keep an eye out!

Thanks a bunch if you have any questions about the market post them here. *Waves and winks* See you guys soon!
_________________
Welcome to Hitoshirenu Kyuusaisha!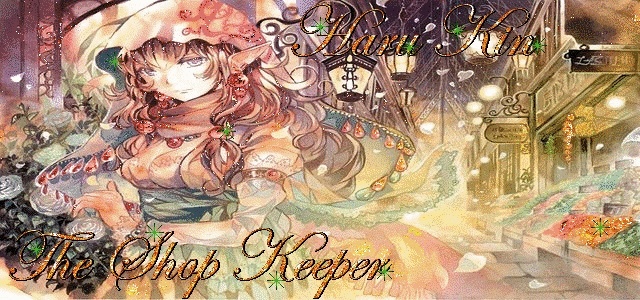 Haru Kin

The Shopkeeper





Posts

: 312


Fame

: 21


Join date

: 2012-11-03


Age

: 30

Character sheet


HP

:


(999999999/999999999)




Magik

:


(9999999999/9999999999)




Stamina

:


(999999/999999)



Similar topics
---
Permissions in this forum:
You
cannot
reply to topics in this forum